LoanExpert Plus (Pocket PC)
4.1.2
Best-selling app! Includes PC companion software! Loan and mortgage calculator and analysis tool, save scenarios, export details, compare loans. US & Canadian. EASY to use.
Last update
20 Mar. 2006
Licence
Free to try |

$24.99
OS Support
Mobile
Downloads
Total: 170 | Last week: 1
Ranking
#5 in Personal Finance
Publisher
Wakefieldsoft, Llc
LoanExpert Plus (Pocket PC) Publisher's Description
LoanExpert Plus™ is your complete loan and mortgage calculator and analysis tool for Pocket PC and Windows Mobile handhelds, and it includes PC companion software! Calculate interest rate, price, down payment, loan length, and more! Save scenarios for easy loan comparisons. Generate and print Amortization tables!
Now includes full support for ActiveSync data merge!
LoanExpert™ has a simple and straightforward interface, and offers numerous useful features, including:
PC Companion Software - Included for easy access to LoanExpert™ data on your desktop, including import, export, printing, and more!
Quick Calculations - enter as few as 3 variables and calculate the 4th of payment, price, interest rate, and length.
Interest only loans - handles calculations for interest only loans.
Save Loan Scenarios - save any number of loan scenarios you create. Create multiple scenarios and compare them. Save scenarios for various clients.
Password Protected - Keep your loan information private.
Loan Amortization - Effortlessly generate an amortization table. See how much of your payment is interest or principal. Print tables on your PC.
QuickKey Numeric keypad - On-screen numeric keypad for fast and convenient entry of values.
US/Canadian Mortgages - Calculate based on US or Canadian compounding.
Much More - Download the free trial to see all of the features!
Enter known values, then quickly calculate another.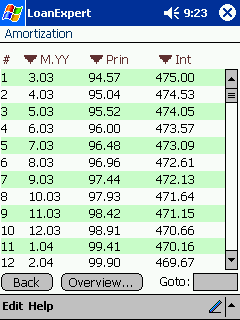 View a complete amortization table and customize column values.
Save loan scenarios for easy reference and comparison.

Includes PC companion software for easy data entry. Also, from the PC software, you can print, import, export, and more.

View the Getting Started Guide
Download our free trial version today!
See for yourself how easy it is to use, and try out all of the features. Then, after purchasing, we will send a registration code to enable the trial version to be fully functional. You won''t have to install again after purchasing. It''s that easy!
Look for Similar Items by Category
Feedback